What is a First Time Buyer?
A First Time Buyer (FTB) refers to a person who has never purchased or built a house before. This means that a mortgage or housing loan of any kind has never been issued to you. There are a number of benefits that are associated with having First Time Buyer status, so it is worth knowing what these are and if you are eligible for these aids. We have answered some of the commonly asked queries regarding FTBs below.


Key Differences for First Time Buyers
Loan-to-Value Limit: For FTBs the Loan-to-Value (LTV) limit on mortgages is maximum 90%. This means that the buyer must have a deposit saved for 10% of a property purchase price, and can borrow up to 90%. This is a lower amount than non-FTBs, to whom a limit of 80% LTV applies.


Help To Buy Scheme: The Help to Buy (HTB) scheme helps FTBs of new-build homes to buy a new house or apartment, by giving a refund of income tax and Deposit Interest Retention Tax paid over the previous 4 tax years. This applies to new homes under the value of €500,000. Relief cannot be claimed on social insurance (PRSI) or Universal Social Charge (USC). The tax refund can be up to the amount of €30,000 or 10% of the property price (whichever is lower). The scheme only applies to properties that are bought as the FTB's residential home, and does not cover investment properties. The purchaser must live in the property for 5 years from the date it is habitable. The Loan-to Value rate of the mortgage must be a minimum of 70%.


It has been confirmed that the HTB scheme will be extended into 2022.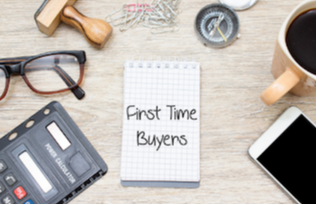 Am I a First Time Buyer?
If you have never bought or built a house before, you are probably considered a First Time Buyer. However, some situations are not as clear cut as this, so we have outlined the eligibility criteria below.


I am purchasing a house with a partner who is not an FTB:
If you are purchasing a house with somebody else, you both must be FTBs to avail of these allowances. That means that if one of you has ever purchased a property before, either individually or with someone else, you will not be eligible for the HTB or a higher LTV rate.


Am I still a FTB if I have inherited/received a gift of a property?
If you have previously inherited a property or received a gift of a house, you are still considered a FTB as you have never actually purchased a property yourself. In these cases, you can still avail of FTB lender limits and the HTB scheme.


Am I an Irish FTB if I have previously purchased a property abroad?
FTB status applies worldwide, meaning if you have ever bought a property in another country, you will not be considered a FTB in Ireland. This applies even if it is your first time buying a home in Ireland.


I have previously bought a house with cash, am I an FTB?
If you have previously bought a house with cash but not availed of a mortgage, you are not eligible for HTB. For information about your status as a FTB with regards to mortgages, it is a good idea to consult a broker to get expert advice on your individual circumstances.


If you have any further queries regarding your status as a First Time Buyer and your eligibility for these allowances, sign up to
www.lintil.com
and we will be happy to talk you through your situation. It is also a good idea to consult a broker, as they can provide expertise and knowledge to ensure you get the best value mortgage that you possibly can. We at lintil.com would be happy to refer you to a highly recommended broker.